Some survey sites take forever to pay out while there are other surveys that pay instantly – well super fast anyway!  With instant payment surveys, there's no waiting around weeks on end to be rewarded for your work. 
In most cases, these instant paid surveys often go straight into your Paypal account, while other instant money surveys allow you to receive electronic gift cards straight to your email account. There are even a few online surveys that pay instantly to your bank account!
It's taken me years to work out which are the best surveys that pay cash instantly and which ones take weeks to process payments.  But it won't take you that long to work out which are the better instant payout surveys because I'm going to share them all with you in this surveys that pay cash instantly 2021 guide.
In this guide, I list the very best survey sites that pay instantly as well as other survey sites that pay fast! I'll provide a brief introduction for each of the instant PayPal surveys, list the minimum points required in order to cash out, as well as the average processing time.
After reading this "instant cash surveys" guide, you'll know exactly where to do surveys that pay through PayPal instantly or quickly at the very least.
Don't want to read my guide and just want to sign up for instant PayPal payout surveys now? Join Opinion Outpost (click here) and Pinecone Research (click here) right now!
Compare Surveys That Pay Instantly
What Are Instant Paid Surveys?
So what do I mean when I talk about instant cash for surveys online?  Well I'll be super honest here in that there are not many, which pay "instantly".  I think the best you'll find is Opinion Outpost which pays in around 15 minutes – which is pretty much, paid surveys – instant payout in my books.
However when most people talk about surveys that pay instantly to PayPal or some other payment method, they are referring to the surveys that don't take weeks and weeks to payout.  Some survey sites even take months to payout which is pretty appalling if you ask me.
Another thing to point out with these online surveys that pay cash instantly – is that minimum thresholds still apply.  So in most cases you can't do one survey and get paid.  You'll no doubt have to wait at least a week or so before you have reached the minimum withdrawal requirements – which I have listed in the table above.
Instant Payout Surveys Reviews
If you want to do paid surveys via PayPal instantly, SuperPay.me is one of the better sites to join.  With payment to your PayPal account in around 4 hours, this can easily be classed as one of the surveys that pay instantly via PayPal. Plus you can cash out as little as $1 so you can get cash after just one survey.
Like most of the better survey sites that pay instantly to PayPal, SuperPay.me offers a range of different ways for you to make money. You can watch videos, sign up to different websites, click ads and download different apps.  
SuperPay.me also have a quarterly cash contest where there are prizes worth $1000, cashback when shopping online and you'll receive bonuses when you invite friends.  You'll even get cash just for signing up – although it's just $0.20 – but you'll only need another $0.80 to cash out.  
While it only takes around 4 hours to get paid with SuperPay.me, keep in mind that the first time you cash out, they may need to verify your account which can take a week or so.  However after that, these guys are one of those sites that pay instantly through PayPal – well within 4 hours anyway – so fast!!!!
As well as doing surveys that pay instantly through PayPal, you can also get paid in gift cards for stores like Amazon, Starbucks, Macy's and more.  This actually works out better value for money as you will be charged a 2% fee for PayPal payments.
With basically no minimum payment and payout within hours, for instant cash out surveys, it really doesn't get much better than Superpay.me. 
You can sign up to SuperPay.me here.
Opinion Outpost is probably the fastest in terms of surveys with instant payout.  With payment within around 15 minutes they are even faster than SuperPay.me, but they do have a much higher cashout threshold.  Nevertheless, Opinion Outpost are the fastest out of all the survey websites that pay instantly in this guide.
With Opinion Outpost, you'll get paid instantly to take surveys, but there are other ways to earn points.  The site offers prize draws and has an online community so you feel like you're part of a real community and not just a survey company.
Out of all the survey sites with instant payout options, I find some of my highest paying surveys have come from Opinion Outpost. Most surveys take around 10 to 30 minutes to complete and you'll receive anywhere from around $0.50 to $2.50 per survey.
You do need 100 points to cash out via PayPal though, which equates to $10.  However this is still pretty low compared to some other survey sites.  In fact you could easily be getting your first cash payment after a week or so if you complete each survey you receive.
The best part about surveys sites that pay through PayPal instantly like Opinion Outpost is just how quickly you receive your payment after cashing out.  Getting payment within 15 minutes is pretty amazing, making it one of the better instant paid surveys online.  
You can sign-up to Opinion Outpost here.
With Pinecone Research, while payment does take a few days, with only a $1 minimum cashout it certainly earns its place among these instant paid online surveys.  With Pinecone Research, you will have your cash in your PayPal account within a few days of completing your first survey.
I tend to find I receive around 4 to 8 surveys per month with Pinecone Research.  Each survey takes around 15-20 minutes to complete and earns me around $3 per survey.  So as you can see, in most cases, you can cash out after just one survey, which is perfect for those wanting to take surveys and get paid instantly.
A great thing about Pinecone Research is you won't be disqualified from any survey as they only send you surveys you're qualified for.  So unlike other surveys that pay you instantly, with Pinecone Research, there is no wasting your time on surveys where you get rejected after a few questions.
Plus you can do surveys on the go, as their site is also highly optimized for use on mobile.  This means you can get paid instantly for surveys pretty much from anywhere!
You can sign-up to Pinecone Research here.
With Opinion Square you don't take surveys that pay cash through PayPal instantly (you can cash out for gift cards though), but they do have regular prizes where you can win ridiculous amounts of cash!  
Each month Opinion Square gives away up to $100,000 to 4 lucky winners who are randomly chosen each month.  Prize money includes amounts such as $25, $2500, $5000 and drum roll please……. $100,000.  You can get an entry into this draw in various ways.  For example, you'll get an entry when you sign up, but other entries can be obtained by completing various surveys that offer entries to the sweepstakes.
In addition to having the chance to win cash prizes, you can also complete surveys where you earn points that can later be cashed out for gift cards.
So while Opinion Square isn't a survey site that pay instantly into your PayPal account, with the option of cashing out for gift cards and the chance to win some serious cash every month, it's still a good site to sign up to.
You can sign up to Opinion Square here.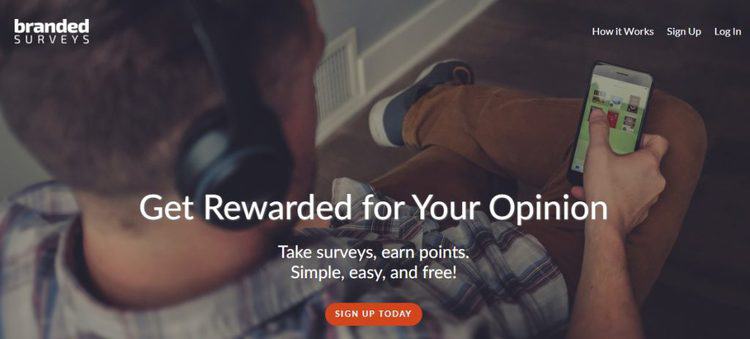 Branded Surveys is another great site if you're looking for paid surveys that pay instantly.  These guys pay out super fast and are one of the few online surveys, instant payout sites that pay straight to your bank account.
Surveys seem to pay pretty well with Branded Surveys, as you can earn up to 300 points per survey.  You'll also receive points if you don't qualify for a survey too.
As well as offering instant money online surveys, with Branded Surveys can earn points via a range of activities.  You can earn points by completing daily polls, challenges and more.  You'll even earn 100 points just for signing up.
Once you've earned 1000 points (equivalent to $10) you can redeem your points for cash, straight into your bank account.  If you prefer, you can also receive your cash via PayPal as well as use your points for gift cards for retailers such as Amazon, Walmart, eBay and more.
I love how quickly Branded Surveys pay out too, with cash generally hitting your account within 48 hours.  Branded Surveys is certainly an excellent one to sign up to if you're after instant cash out survey sites.
You can sign up to Branded Surveys here.
With payment straight to your bank account in a few days, Survey Junkie is a trusted site which is great if you're looking to get paid instantly via PayPal surveys.
Survey Junkie will send you surveys straight to your inbox or you can log in to your account as well to see what's available. Surveys vary in terms of topics and will take an average of around 15 minutes to complete.  With Survey Junkie you can expect to earn anywhere from 100 to 500 points per survey – with 100 being equal to $1.  
In order to receive your instant cash for surveys, you will need a minimum of 1000 points.  The great news is with Survey Junkie you can get your cash straight to your bank account, or there is also the option to be paid via PayPal.  You can also redeem your points for Amazon gift cards.
While Survey Junkie does have a fairly high minimum cash out, the good news is that you can receive your cash payment straight to your bank account within a few days.  So if you can deal with the $10 minimum, this makes Survey Junkie a pretty good site to sign up to.
You can sign up to Survey Junkie here.
I'll be upfront here – MySoapBox Panel doesn't offer you cash for surveys, but it does offer gift cards with a pretty quick processing time, which is why I wanted to include them in this guide.
With MySoapBox, you'll get invited to complete surveys via email or text message.  Each of the surveys will take you around 10 to 15 minutes and you can expect to earn around 750 to 1500 points per survey. 1000 points is the equivalent to $1.
Once you have a balance of at least 25,000 points (equal to $25), you can redeem your points for a range of gift cards. After your first redemption though, there is no minimum cash out. You'll just need to have accrued the required points for the gift card you'd like. 
Gift cards are available for a range of different retailers including Target, Amazon, Walmart, Starbucks, iTunes and more!  Expect to receive your gift card within 7 days.
So if you don't mind receiving gift cards in lieu of cash, MySoapBox is another good survey site to join up to.  They have quick processing times, no minimum cash out (apart from your very first time) and these days a gift card is really just as good as cash anyway.
You can sign-up to MySoapBox here.
I hope you enjoyed my list of best survey sites that pay cash instantly – click here to see which sites pay into PayPal with low minimum payouts.  If you want to learn more about paid survey opportunities, you can read my tips on making cash with surveys here or find more surveys that pay cash here.